In the midst of an urban landscape, outdoor art exhibitions serve a unique purpose. They provide a moment of peace and cultural renewal for citizens to enjoy during their daily lives.
During the peak of the COVID-19 pandemic in 2021, countries all over the world organised outdoor art events to boost morale. Residents of New York could enjoy Kusama's colourful sculpture, which was installed in the middle of the Botanical Garden. For the visitors, giant dancing pumpkins and other bright and vibrant shapes came to life.
Porto, Portugal, introduced Danish-Icelandic artist Olafur Eliasson, who is passionate about using nature as a medium through the use of light, shade, air, and water.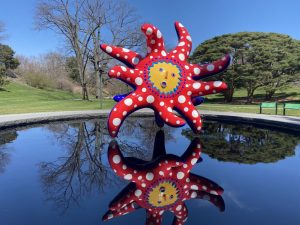 Yayoi Kusama, I Want to Fly to the Universe (2020) at the New York Botanical Garden. Collection of the artist. Photo by Sarah Cascone.
A beautiful light installation created dancing shapes around Takeo Hot Springs in Tokyo. The light show, titled "A Forest Where Gods Live," projected moving shapes and colours onto the natural elements.
Huge inflated whale-shaped balloons took over the sky all over Australia, celebrating the role of fathers as caregivers.
Also returning to the Bondi to Tamarama Beach coastal walk is Sculpture by the Sea, the world's largest free to the public sculpture exhibition. The spectacular coastal walk will be transformed into a 2km long sculpture park featuring 100 sculptures by artists from Australia and around the world over the course of three weeks.
Outdoor art is in high demand, and it is the ideal opportunity for artists to create temporary or permanent pieces that will inspire citizens.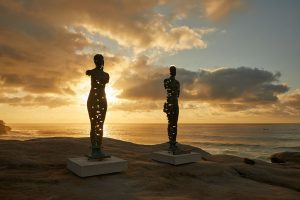 Egor Zigura, 'Kore That Awakening' and 'Colossus Awakens', Sculpture by the Sea, Bondi 2019. Photo Henri Fanti
Can you make a business out of outdoor art exhibitions?
It can be difficult to earn a living solely through outdoor exhibitions unless you can offer your services as an artist to various organisations. For example, you could use your art to support a social movement or a charitable organisation. To attract funds, charitable organisations must raise awareness. As a result, collaborating with an art charity can be an excellent way to give your work a voice. Alternatively, as an artist in residence, you can collaborate closely with a museum to design seasonal exhibitions.
It can also be a great way to get noticed and reach out to large clients.
Making plans for long-term or permanent exhibitions
Some outdoor exhibitions are only on display for a few weeks or months. Others, on the other hand, can stay for a year or more. As a result, it makes sense to collaborate closely with your client to prepare for future visitors. Consider precast concrete seats and benches, for example, so visitors can sit and admire your creations.
If you intend to include a picnic area, you will also need to bring garbage cans. The main problem with bins is that they can detract from the art. Dressing the bins with removable and sturdy sculptures that allow full access to the garbage disposal and can be "opened" to empty the bin is a good way to reduce disruption.
Use # Tags for Social Media
You should also consider your social media presence during the exhibition. Now is the best time to come up with a hashtag to describe the art. You can ensure that your client's hashtag appears on relevant signs throughout the exhibition site. Hashtags are likely to live on long after the exhibition is over, so make sure you can generate some buzz:
#ExhibitionName
#ArtInLocation
#ArtiCitation
#ArtistName
Are you prepared to create an outdoor art exhibition that will both inspire and move your audience?
Outdoor exhibitions, unlike museums or art galleries, can attract a diverse audience, including people who are unfamiliar with art. Use it to convey a message while also making art more accessible to the general public.
Do you want to know more?
Are you just getting started? CLICK HERE
Have you been in business for at least two years? CLICK HERE
We're here to assist you in taking action, just as we've assisted thousands of other entrepreneurs, business owners, and creative professionals all over the world.
Now is the time to let your passion SHINE.
Now is the time to Make Tomorrow Today!
To your success,
Vinh Van Lam & Stuart Horrex
Your Coaches ArtSHINE industries