ArtSHINE Bright Star: Gabby Malpas
Website: https://gabbymalpas.com/
Art Licensing: https://artshinelicensing.com/artists/gabby-malpas/
Shop Online: https://artshineplayground.com/our-artists/gabby-malpas/
Wholesale: https://artshineshowcase.com/wholesale-access/
What would be different in your life?  If you were already making a living from your art
"Art Licensing" is a great way to make money from your artwork.
Rather than selling originals or designs outright, many artists and designers will grant the right (licence) to use their art on a specific product for a limited time in exchange for a percentage of sales. This percentage of sales is called a royalty payment.
By licencing your art, you can earn money from the same piece or collection multiple times. A good commercial art piece could be used on a variety of products ranging from stationery and greeting cards to ceramics and fabric.
Art licensing trade shows in the United States and Europe allow artists and designers to show new work to the design and product manufacturing industries. As an artist, you have the option of organising your own trade show or hiring an art licencing agent to represent you. Art licencing is becoming increasingly popular in the design and manufacturing industries. Many manufacturers prefer to collaborate with artists because it is a cost-effective solution for their business. This means they don't have to commit financially to hiring a full-time artist or designer at a high salary. Working with a variety of artists will also bring new ideas to their product designs, which will undoubtedly help to increase sales and position themselves in the product design industry.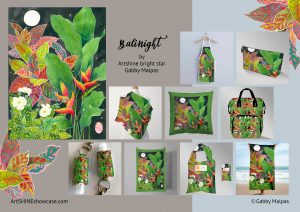 Bali Night Collection by Gabby Malpas
Despite the fact that art licencing is a fantastic way for artists to earn a residual income while creating and doing what they love. In order to earn a good living in the world of art licencing, an artist must first understand the art licensing process and what to paint.
So, what motivates you to draw and paint?
What are you going to paint?
What kind of art do you think will sell?
These are the questions that must be addressed….. To be successful in Art Licensing, you must be authentic and true to yourself; do not try to be someone else or copy someone else's styles or work because it is already available on the market. You must create from your own interpretation, honour your creativity, and allow it to shine. When you create your own original work with your own interpretation, it means that no one else can do it but you. You are the mastermind behind your own masterpiece. This quality will set you apart in the Art licencing industry.
Do you need assistance in planning your Art Licensing journey?
Just starting out? CLICK HERE
Been working in your business for two years or more? CLICK HERE
We're here to help you to take action just like we've helped thousands of other entrepreneurs, business owners and creative professionals all around the globe.
Now is the time to let your passion SHINE.
Now is the time to Make Tomorrow Today!
To your success,
Vinh Van Lam & Stuart Horrex
Your Coaches' ArtSHINE industries