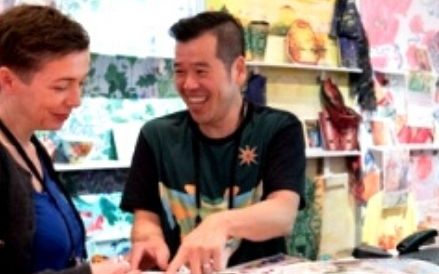 With a deliberate and unapologetic focus at the intersection of creative and commercial impulses, ArtSHINE facilitates a valuable exchange of opportunity and encourages new ways of generating additional revenues and social capital
Pursue your opportunities with ArtSHINE
I'm a Creative ready to take my practice to the next level through an ArtSHINE Launch Pad + Accelerator program
I'm an established Creative with a portfolio of designs and collections ready to be showcased by ArtSHINE at art licensing trade shows and surface design marketplaces around the world
I'm looking for ways to support ArtSHINE and the ArtSHINE communities of practice
As a social enterprise ArtSHINE inspires and empowers commercially minded Creatives to build sustainable businesses and generate viable incomes through our flexible, practical, and real-world approach to creative practice, commercialisation, art licensing, action learning self-leadership, and entrepreneurial education
ArtSHINE operates a number of divisions:
Founded by Vinh Van Lam and Stuart Horrex ArtSHINE inspires and empowers commercially minded Creatives to build sustainable businesses and generate viable incomes through our flexible, practical, and real-world approach to creative practice, commercialisation, art licensing, action learning, self-leadership, and entrepreneurial education
It's our mission to help people achieve positive creative expression, financial stability, social mobility, and sustainable economic prosperity 
ArtSHINE works to identify and advance commercially minded and innovative Creative Industries Professionals who focus on art, craft, artisanal making, design, fashion, entertainment, photography, music, writing, film & television, digital technology, and games & interactive content
We're focused on facilitating the creation of sustainable enterprises and revenues for the artists, the designers, and the Creative Industries professionals we work with, viable returns for the impact investors who support them, and increased social capital within the communities we all live
ArtSHINE draws on the knowledge of experienced industry professionals and has developed a signature OPIC action planning model®
Our programs and services provide the practical tools and real-world resources people need to make a real difference in their lives
We recognise how challenging it is to be creative while also balancing multiple priorities and obligations, and keeping up with all the changes and pressures in today's fast-paced world. Beyond all these challenges, and the challenges of the creative process, it's additionally difficult to find the time to devote to the sales, marketing, systems development, business planning, and the long-term strategy needed to be successful in creative practice as a creative business owner
Even though the world is now moving faster and faster, and competition has increased, ArtSHINE believes there has never been a time of greater opportunity. And this is evident in the successes of the people we work with!
ArtSHINE has worked with hundreds of people as they launched, established, and grew successful creative businesses 
So, are you ready to take your creative practice to the next level too?