ArtSHINE Bright Star:  Anthony Van Lam Designs
Website: https://avldesigns.com.au/
Art Licensing: https://artshinelicensing.com/artists/anthony-van-lam/
Shop Products: https://artshineplayground.com/our-artists/anthony-van-lam/
Wholesale: https://artshineshowcase.com/wholesale-access/
Art licencing is just one way to make money doing what you love… But is it right for you?
Consider the following questions:
Do you enjoy creating artwork and designs?
Are you capable of meeting deadlines?
Are you adaptable in your artistic creation?
Are you willing to compromise by changing your colour schemes and even your designs on occasion?
Are you versatile in your art practice, and able to create various art themes or character art?
Do you want to see your artwork on products sold in stores and online?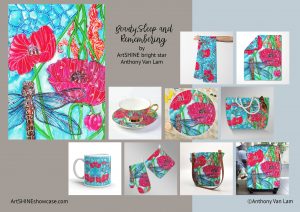 BSR Collection by Anthony Van Lam Designs
Consider those questions, and take note of some of the words we've used. Words like passionate, adaptable, and versatile…
And some difficult words… Deadlines… Compromise…
Art licencing is all about knowing who you are as an artist. It's about having a deep understanding of who you are as an artist and having genuine faith in your work.
To be successful, you must be able to determine what belongs to you as an artist and what you can share with the world as a design that can be licenced.
Not everyone is suited to art licencing… Is this the best path for you?
Creating a system that supports your creativity and allows you to maintain momentum is one of the keys to success.
Do you need assistance in planning your Art Licensing journey?
Just starting out? CLICK HERE
Been working in your business for two years or more? CLICK HERE
We're here to help you to take action just like we've helped thousands of other entrepreneurs, business owners and creative professionals all around the globe.
Now is the time to let your passion SHINE.
Now is the time to Make Tomorrow Today!
To your success,
Vinh Van Lam & Stuart Horrex
Your Coaches' ArtSHINE industries