"When you have a high level of competence in what you do,
and you have the confidence to act on your ability…
you can succeed in any area you choose in your life." 
~ Vinh Van Lam
To do well and be happy with what you do, you must accept yourself. To acknowledge your weaknesses while celebrating your strengths. After all, you're all one-of-a-kind individuals.
Success in your art and design practice is entirely dependent on you; how you feel, act, and embrace who you truly are.
We discuss "Confidence and Competence" with our artists at ArtSHINE.
Here's why…
You all have dreams and desires as creative people. And you set goals based on your dreams and desires. Perhaps your goal is to become a well-known artist or designer in your field. One thing is certain: all creative people share a common goal: to be successful in their own right while doing what they love.
Based on our coaching experience, we believe that two essential characteristics are required to achieve your goals:
1. CONFIDENCE: your sincere belief in your ability to complete a task, and
2. COMPETENCE: all of your abilities, skills, experiences, and knowledge that indicate you are capable of performing a task.
In our research, we discovered that when it comes to competence and confidence, creative professionals generally fall into one of three categories…
Confident but lacking in Competence:- Self-assured and talented, with a clear focus on art and design, but not fully competent in all aspects of art and design practice.
Competent but lacking in Confidence:- One-of-a-kind talent with a passion for art and design, as well as an understanding, ability, and appreciation for the various aspects of successful design practice. However, they lack the self-assurance to move beyond their current experiences. Sometimes reliant on others to validate abilities. Has the capability but lacks the confidence to act. As a result, he/she remains stuck and rarely achieves their goals and dreams.
While successful creative professionals are included in the third category…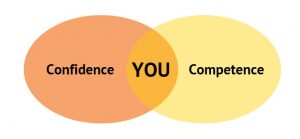 This is where we want you to be: confident and competent… You are optimistic about your art and design practice. You are confident in your ability to achieve your objectives and are actively working towards them. Understanding of what it takes to be good at what you do, as well as gratitude for your strengths and weaknesses Constantly challenging yourself and learning new skills to improve yourself and your BusinessLifestyle.
So, in order to achieve your goals and be successful, you must first gain competence. Develop the skills and knowledge required for your art and design practice. And it's not just about art and design… It comes down to your ability to "deliver the whole package."
Your belief and confidence in yourself to take action are equally important. To have the confidence to do everything necessary, to do what you know, to use your talent and skills to their full potential.
The really good news is that through learning, experiencing, and gaining knowledge, both confidence and competence can be developed over time.
When you have a high level of competence in your chosen field and the confidence to act on it… you can succeed in any area of your life.
Want to learn more?
Just starting out? CLICK HERE
Been working in your business for two years or more? CLICK HERE
We're here to help you to take action just like we've helped thousands of other entrepreneurs, business owners and creative professionals all around the globe.
Now is the time to let your passion SHINE.
Now is the time to Make Tomorrow Today!
To your success,
Vinh Van Lam & Stuart Horrex
Your Coaches ArtSHINE industries